All the way back in March I saw
this on the Pleated Poppy
. I had long admired Lindsey's product, but in this purse revamp I was finally like, "I can do this! And the bag is from Target - my Mecca!"
So off to Target I went and stocked up on bags. I started playing around with fabrics. Just looking at fabrics is fun enough there are so many pretty ones. Lindsey is absolutely correct when she says you should check out
Hawthorne Threads
- uh-mazing!
Now with my nice little stash of fabric and embellishments I had made an awesome bag for myself.
Well, as you can imagine, I started getting lots of compliments on this fun bag. And it is fun. I had fun playing with all the different types of materials - I've got a zipper flower on there, ribbon flowers, fabric flowers, and little felt buttons. It is definitely something that took time. I had reached a point where I thought I was done, so I hung it on the back of a chair and kept looking at it for a day. A few things stuck out at me so I pulled them off and readjusted - just like fine tuning or "sleeping on it."
I kind of had in mind that these bags would make excellent diaper bags and my cousin was expecting twins this month. Back in April she said to me, "what if I found some fabric for you, would you maybe make me a bag?" And I said, "what if you just wait and see what people have planned for you!"
Well there went my surprise, but it did take me all the way until now to get it to her. She had those two sweet girls yesterday morning and I got to meet them today. Baby A weighed 4 lbs. 1oz. Baby B weighed 4 lbs. 11ozs. I can officially say those are the smallest babies I have ever held, let alone seen. Here's how her bag turned out:
And well for me, it's all about presentation, so you have to fill a diaper bag with all kind of little goodies!
I made sure to include the Big Sis, with her very cool t-shirt of course. And at Target, of course, they have these awesome marker boxes and notebooks that you can 'make your own.' See how they are black and white and have designs? You just get markers to color in the designs. I thought she would have fun with that. Plus a few new frames for the babies when she is in kindergarten next year. Then, in the diaper bag went two receiving blankets, their Lil Sis t's and two dry erase boards that I made. Again, the frames came from Target. They came in a two-pack (ha, so did the receiving blankets). I used some of the same fabric from the diaper bag, put it inside the glass, as well as a few stickers on the inside, and voila! I think my cousin will be all set, at least for a couple of hours :)
*go see this and lots of other great ideas at
and since this was a gift, go check out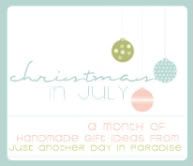 for this and more great gift ideas!