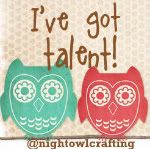 I always knew I did my best creating late at night when the house is real quiet and its just me and the TV. It is tricky though sometimes because I have to creep around and not wake anyone up since I have always either lived with roommates, in an apartment building, or at my parents. But today it was all worth it. I woke up this morning to check all my blogs and went to click on one of my favorites,
Night Owl Crafting
. Leslie hosts a link party each week titles Hoo's got talent? (she may have won me over with the whole owl theme :). Then each week she recaps. Well guess what?! I've got talent! My magnetic memo board is featured right on top there, so exciting to wake up to after another late night!!! :)
I'll be back a little later with other things I've been doing. Have a good day.